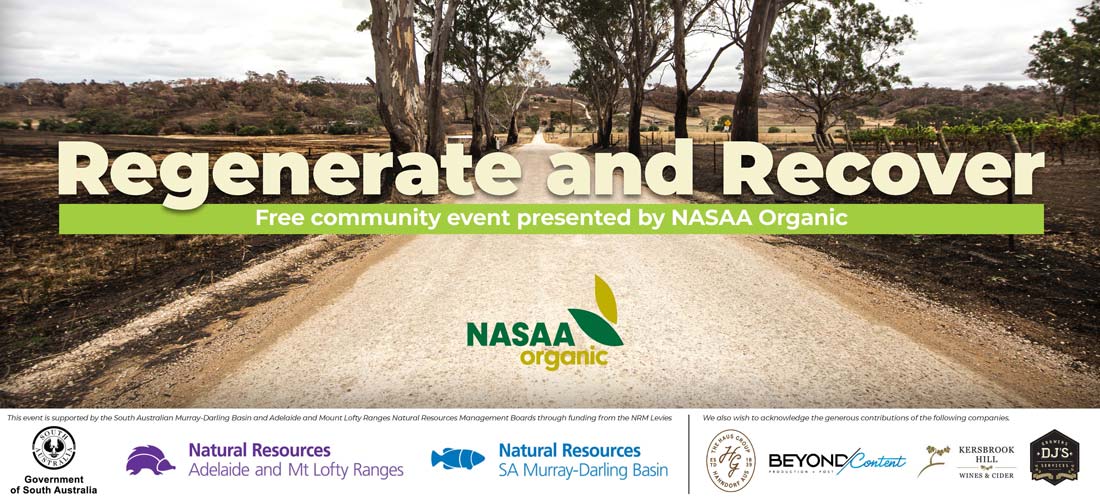 NASAA Organic (National Association for Sustainable Agriculture Australia) is Australia's first organic industry association. We have been a part of the Adelaide Hills Community for over 30 years and like the rest of the country we are devastated by the enormity of the bushfires and the impact on people, livestock, habitat, wildlife and infrastructure.
To help the Adelaide Hills community recover we have bought together leading experts in the organic industry to share their knowledge and expertise on rebuilding properties to again sustain plants, animals and people.
This recovery event is designed to assist people with properties that were either directly impacted by the recent bushfires or those who are taking the opportunity of considering more sustainable solutions on how to design their property to be more resilient to future drought and bushfire events.
Our keynote speakers, Tim Marshall and Ron Watkins, are national authorities in soil health, effective water management, property design, and post fire management.
Plus we will be hearing from Paul Clark, Managing Director of Kersbrook Hill Wines and Cider, who experienced the heartache of enormous loss from the Sampson Flat Bushfire in 2015 and his journey to recovery.
This is a free community event open to all: including homeowners, landowners and businesses.
Venue:   The Haus Group Conference and Event Centre, 38A Main Street, Hahndorf, South Australia
Date:  Thursday 20th February 2020 6 – 9pm. Registrations open at 5.30pm
RSVP is essential: Via Eventbrite
Or call Kate Parker on 08 7231 7704